Budgeting is one of the least liked parts of the financial planning process. However, I genuinely believe people make it much more complicated than it needs to be.
You can download apps and software and link up accounts, so all your data is uploaded automatically and create beautiful spreadsheets. Don't get me wrong, I'm genuinely impressed by clients that have the ultra-detailed spreadsheet when they come to see me, and nowadays a lot of this stuff can be automated. However, for many clients, all the apps and programs can become a distraction. And a lot of times we can lose focus on what is needed. Really though, we need just two things—a sense of essential expenses and a sense of discretionary expenses.
In the vast, vast majority of cases, it's not that challenging to get it all down on paper- and quickly. I'd say if you are spending more than 30 minutes, you're spending too much time on it. You know your mortgage, property tax, and insurance. You know how much you're contributing to retirement accounts, and from there, it's food and various other personal expenses. The point is, it's usually not that complicated. But you can certainly take the time to get it as detailed as you like to satisfy your own unique granular (possibly overly obsessive) needs. It's truly a personal choice, and I don't judge.
It's funny, I do a lot of plans, and here in the bay area people generally fall into one of a few buckets. We're all shopping at the same places, buying the same stuff, so there exist some distinct and identifiable patterns.
I'm going to share with you one of my favorite tools to very quickly get a sense of a client's spending and, in turn, a "back of the napkin" sense of the sustainability of a retirement plan. I'll have a client create a one-page excel file with two columns. One for "essential expenses" and one for "discretionary expenses."
The reason you want to separate essential expenses from discretionary expenses is that later if you need to go back and find room for improvement – then guess which column you'll be looking at to find answers? That's right, the discretionary column which contains that daily morning latte' and the $400 a month you're spending on yoga (true story).
Next, we'll go to calculate what I call the "burn rate" on portfolio assets. We'll divide your total annual expenses by total portfolio assets. Portfolio assets are your spendable assets, so this would not include the house where you currently reside. I'm referring to cash, brokerage accounts, 401Ks, and IRA type accounts. The stuff that will go on to create your "income" later in retirement.
Now it is essential to point out that this exercise on its own is not a financial plan. It's merely an exercise to get a sense of the sustainability of your retirement plan. In our "back of the napkin" example, we did not consider Social Security income, a pension, or possibly real estate income. But the exercise is a quick and easy way to get a sense of how the plan is looking and then from there; you can back out known income from your expenses and redo the calculation in order to get it a more accurate sense of the real "burn rate."
The 4% rule states that if our "burn rate" is more than 4%, then we may be getting into unsustainable territory, depending on age and a few other factors. Also, the 4% rule is highly debatable, and I would conservatively say that a 3% rate is all the more "bulletproof". However, there is much more to the story. All we're attempting to do with this exercise is to get a sense of a plan's sustainability.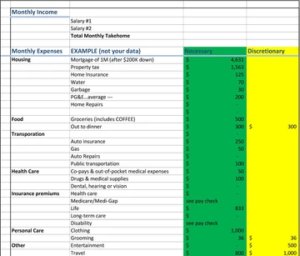 The last thing I want to point out is that if it turns out you're a little behind, then it may make sense to look back at the expenses worksheet and see where there can be improvements. That's precisely why I'll have clients separate essential expenses from discretionary expenses, just so there is an easy way to know where to find those nuggets of improvement.
In general, though, I am not a fan of reducing spending. Tom Hegna in his book "Pay Checks and Play Checks" makes a great point about what retirement is supposed to be about. Ideally, a client is spending MORE money, not less. I mean, isn't "retirement" supposed to be a 24/7 Saturday? Isn't the goal of a successful retirement to spend the money you've accumulated? I don't know about you, but I also tend to spend MORE money on the weekends, not LESS.
Another reason I'm not much of a fan of reducing spending is (in my experience) it probably won't even happen. Unless of course, it's become apparent that a change is required. If a plan is proving to be unsustainable then there just may need to be some tough choices.
So that is your quick "back of the napkin" technique to get a sense of budgeting, the burn rate on portfolio assets, and the sustainability of your retirement plan.